Existing customer?
Useful resources and tips for accuracy customers
Thank you for using Developing an Eye for Accuracy!  We are keen to work with you to ensure the programme is a huge success for your organisation, so here you'll find some useful information to help make your experience of accuracy training even more rewarding!
If you have a question about your course delivery, have a technical query about using the resources in the Accuracy Trainer's Pack, or want advice about ordering more Participant Manuals, you'll find what you need here.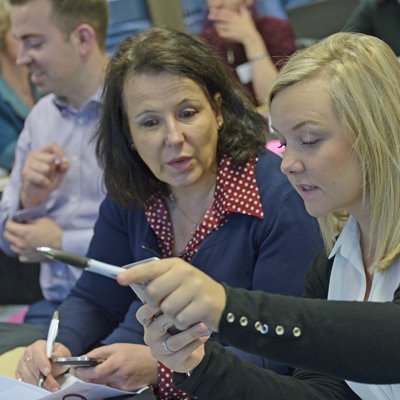 Promoting the programme internally
We are keen to help you promote Developing an Eye for Accuracy internally. We can provide you with electronic posters to print out and display and we also provide useful documents like Course Overviews and Ready-made Course Descriptions for you to promote the training to your employees.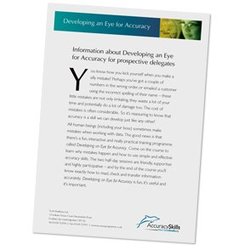 Our Ready-made Course Description is designed to help you to promote the programme to prospective delegates.
Making the most of the post-training assessments
Our optional post-training assessment papers are available for you to send out to the delegates one month, three months and six months after the training delivery has taken place. These tests enable you to track accuracy performance in the months following the training. For just £150 + VAT we send you three sets of additional test papers to use with the delegates who attended Developing an Eye for Accuracy. Our extended results spreadsheet tracks the individual and group accuracy scores, beginning with your original pre- and post-course test results from the course and continuing with the results from the three additional assessments. We help you to interpret the results and calculate your return on investment.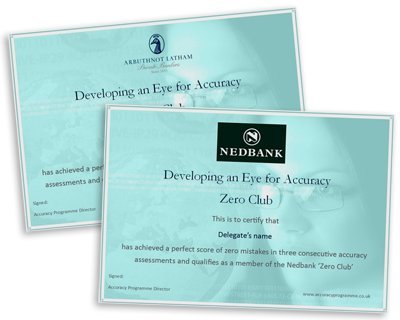 Celebrate success with 'Zero Club' certificates
It's really important to celebrate accuracy. So often we only notice when something goes wrong, so let's reward people when they get it right! If delegates achieve three consecutive 'perfect papers' (no errors) in their assessments, we can provide you with a 'Zero Club' certificate to present to them.
If you have any questions relating to the content of the programme or the use of the resources in the Trainer's Accuracy Pack, including the video, audio files or stopwatch, please ring our main office number on 01638 723590 so we can direct your call to the appropriate person and ensure you get a swift answer to your query.
For advice on ordering more Participant Manuals or queries about your course delivery, please contact:
Contact Angie Dean  
Angie liaises with you in the run-up to your course delivery and provides you with name cards and certificates for your delegates. She makes sure everything arrives on time, and in the right place. And she is your point of liaison for the Accuracy Consultant who is delivering your course.
Angie also sends you the link to our online pre-course questionnaire, which we ask all delegates to complete.
If you wish to order more Participant Manuals for internal delivery, Angie is the person to speak to!