Reducing the Cost of Error
Half-day event for evaluating our accuracy training programmes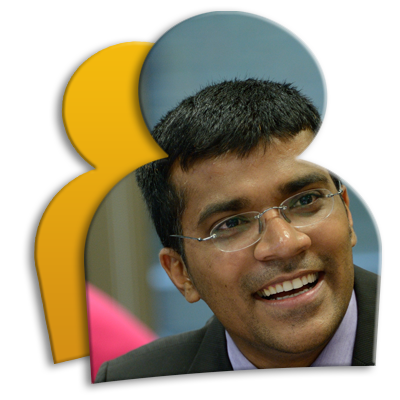 Who should attend?
The events are for senior managers and directors from business operations, finance, quality and customer services, as well as heads of learning and development and HR, who want to explore how accuracy skills training works and how it reduces costs and improves productivity. You'll learn:
How much mistakes cost
Why they happen
How to prevent them.
You'll participate in activities to explore how errors damage efficiency, productivity and customer service. You'll experience for yourself how accuracy skills can be learned, practised and measurably improved, enabling you to drive down costs and boost your operations.
You'll find out why all human beings, even your best, most conscientious people, sometimes make mistakes and explore how to build concentration skills and promote attention to detail.
How much are errors costing your organisation?
The cost of errors usually runs into thousands, if not hundreds of thousands of pounds. You'll get the opportunity to examine the cost of error in your own organisation and calculate in broad terms what mistakes are costing.
What else will I gain?
You'll understand why all human beings make mistakes and how to implement practical strategies for overcoming the natural barriers to accuracy. For example, you'll learn how our eyes work when reading data, and why this can make us prone to error and you'll participate in fun activities to see how our reading skills get in the way of accuracy too.
You'll pick up useful insights into dealing with interruptions and distractions and how to enable people to be 'present-minded' so that they are totally alert to the possibility of error. You'll discover how to ensure your people fully engage their brains in completing their tasks and why it's important for people to be conscious of the wider context of their actions.
You are introduced to some of the accuracy techniques from our Developing an Eye for Accuracy and Preventing Mistakes at Work programmes.
You'll leave with a clear idea of how accuracy is a trainable skill. And you'll understand how simple, powerful techniques which everyone can learn, make a measurable and significant impact on productivity and efficiency.
How are the events presented?
The event is presented by Catherine de Salvo, co-founder and director of Scott Bradbury. The morning is a mixture of short presentations and lively activities designed to engage you in thinking about the cost of error and what you can do to prevent mistakes.
With more than fourteen years' experience of working with organisations to reduce error, Catherine shares valuable insights into why mistakes happen and how to reduce their cost, using lots of real examples along the way.
"Catherine is a very engaging trainer who explained the concepts well and provided a good insight into the training courses. Really useful."
How much?
£95 + VAT for the first participant and £45 + VAT for the second participant. This fee is totally refundable if you go ahead and book any accuracy training course within three months of the date of the event.  Whatever you decide, you go away with valuable insights and practical ideas for reducing error, as well as our Accuracy Goody Bag including our book 'Preventing Mistakes at Work' and other useful tools. Participants describe our events as 'really valuable'.
What do participants say?
"Excellently presented and highly stimulating"
John Dean, GB Railfreight
"Content was really valuable"
Sam Mapstone, Welsh Water
"Really good mix of information and practical exercises and participation"
Sharon Green-Buckley, Parkeon
"I can see how it would benefit our business"
Stephanie Rose, Capita Employee Benefits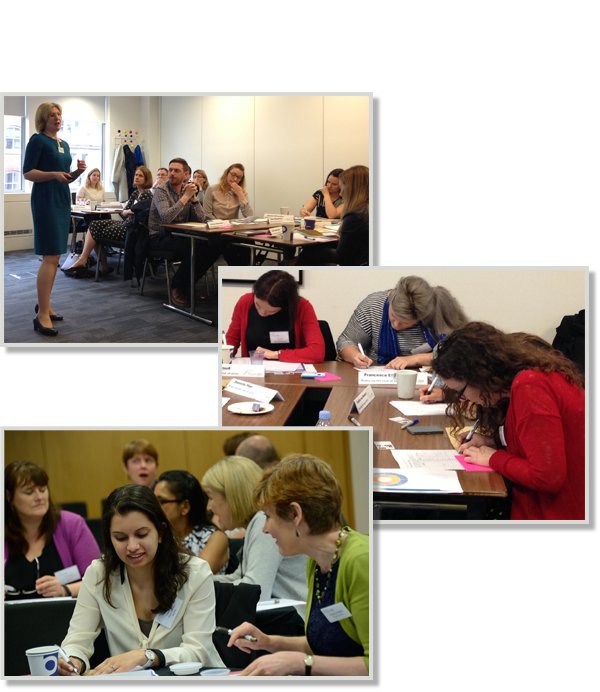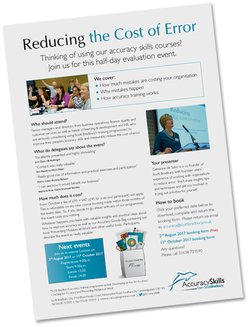 How to book
Please call 01638 723590 or download, complete and return a booking form below.
Locations and dates
2018
Next events:
New dates to be announced shortly
Event information
Reducing the Cost of Error is a half-day event.
Registration: 9:00a.m.
Start: 9:30a.m.
Lunch: 13:00
Finish: 14:00
All delegates receive an Accuracy Goody Bag including our book Preventing Mistakes at Work.
Can't make our dates?
To find out more about our programmes Developing an Eye for Accuracy and Preventing Mistakes at Work, please call 01638 723590 or complete the demonstration request form.