Mistakes waste time, cost money and annoy customers
How accurately do your people work with data? Are they good at paying attention to detail? Even your best, most conscientious and most experienced people sometimes make mistakes.
The good news is that accuracy is a trainable skill. We show you why mistakes happen and how to prevent them. And we equip your people with the skills to read, check and transfer information accurately.
It's all about getting it right first time, every time. And it starts here…
Programmes
Find out about our range of accuracy training programmes, including Developing an Eye for Accuracy and Preventing Mistakes at Work.
Resources
Download resources and tools such as the 'back-of-envelope activity' to calculate the cost of error in your organisation. And access a wealth of articles, fun accuracy tests, case studies and tips guides.
Events
Come to our next Reducing the Cost of Error taster event to meet with our accuracy experts and learn about our accuracy techniques.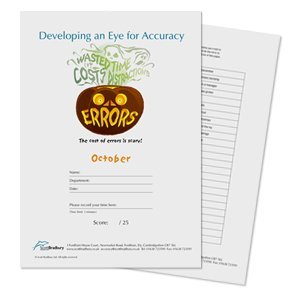 Subscribe to our themed tests and receive a new one each month – for free!
Mistakes are scary!
Don't be spooked by errors!
The cost of errors is frightful - so scare away those nasty, expensive mistakes by taking our Halloween-themed accuracy test.
Circulate it to all your colleagues and fight back against the scary cost of errors!