The British version of Developing an Eye for Accuracy was developed in 2003 and the programme has been refined and improved continuously ever since.
Tens of thousands of people around the world have learned to use the accuracy techniques, which are introduced and practised in the Developing an Eye for Accuracy programme.
Co-founder of Scott Bradbury Hugh Murray, is Europe's leading authority on developing people's accuracy skills. Back in the 1970s Hugh worked with American businesswoman Evelyn Mareth, who was involved in the original work to identify what makes some people more accurate than others. It was from this research that the first training programme called Number Skills, later published by McGraw-Hill, was first developed in the United States of America, where it is now known as Accurate Data Transfer and is available from Evoke Development.
Scott Bradbury owns and publishes the modern-day programme which throughout Europe, India and Australasia is called Developing an Eye for Accuracy. Hugh Murray's further research and investigations into how to prevent mistakes at work informed the development of Scott Bradbury's latest core programme, Preventing Mistakes at Work.
Scott Bradbury is a privately owned business based in Cambridgeshire in the United Kingdom. There is more information about Scott Bradbury at www.scottbradbury.co.uk.
In addition to being a leader in the field of accuracy skills, Scott Bradbury is also well known as a producer of video learning resources, through its WATCH & GO® online video learning service. The WATCH & GO® online video learning service site is at www.watchandgovideos.co.uk.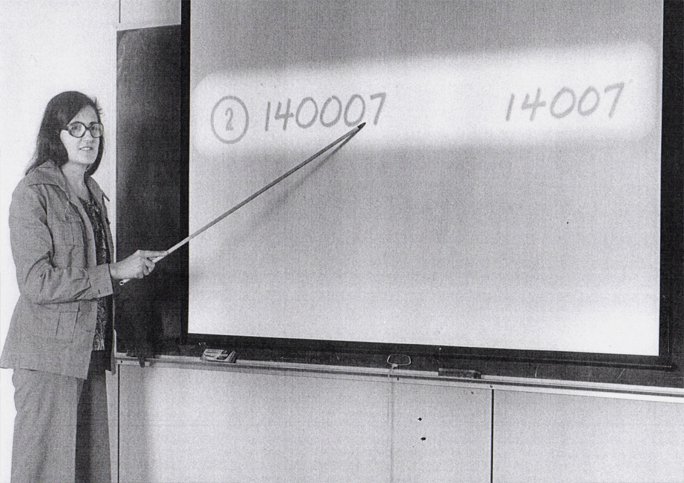 Evelyn Mareth teaching Number Skills in the 1970s