Even the best of us can improve what we're doing and how we're doing it. Small incremental improvements to our ways of working, lead to big benefits over time. Start by conducting an audit of your regular tasks. Take a good hard look at the things you do and ask yourself if there are any improvements you can make to the way you do them. Identify small changes which, if consistently applied, will deliver significant productivity gains and improved results. It's easy for things to slide if you don't do this. Whilst a one per cent improvement delivers big benefits over weeks and months, a one per cent decline ends with catastrophic results!
A few minutes spent on your own 'activity audit' will reap rewards. I recently did this exercise with a group of confident business consultants, who were sceptical about whether they could improve on their working practices. Complacency of course is a dangerous thing, and even my group of reticent participants were pleasantly surprised by the ideas they generated from doing this activity. 
Here's what you do:
Take a piece of blank paper and divide it into four equal sections by drawing a line down the middle and across from side to side. In the top left-hand side box write, 'within my control, can be improved'; in the top right-hand side box write, 'Within my control, already optimised'; in the bottom left-hand side box write, 'not within my control, can be improved'; finally, in the bottom right-hand box write, 'not within my control, already optimised'.
Next, take a wad of Post-it Notes® and write down on a different sticky note each individual task you do regularly.  For example, 'book car parking space for visitors' or, 'monthly call to customers' or, 'update usage report' or whatever the task is. When you have written down as many regular tasks as you can think of, review each task in turn and decide where you are going to place that task's sticky note on your quadrant piece of paper. Be very careful when it comes to the right-hand side of the quadrant - are you really confident that the tasks you put there are entirely optimised?
The most useful tasks to work on are the ones you've identified where an improvement can be made.  Take each in turn and ask yourself, 'what can I do differently to make this work better?' Even those tasks you've identified as being outside your control are well worth exploring. What improvements can you see and who do you need to influence to bring about the change?  If you explain clearly the benefits to be achieved from implementing your suggestion, you are bound to engage your boss and/or your colleagues in considering your idea. 
If you use checklists in your work, here's another way you can make big gains from small improvements. Is your checklist basically a list of closed questions? i.e Have you done this? (tick), Have you done that? (tick) If so, it isn't optimally designed for its purpose. If it is literally a 'tick box exercise' which you regularly go through on automatic pilot, then you may as well not have the checklist at all. But small changes to that checklist will make a big difference to its effectiveness.  In our 'Accurate Documentation Skills' workshop we explore this in detail, but here's the thing: simply by turning closed questions requiring a YES/NO answer into an open question, requiring thought and a written response, your checklist instantly becomes a more effective tool.  Implementing small changes to your checklist so that you think about the answers, has a big impact on how you use it – meaning that you are less likely to overlook or omit anything and much more likely to complete all elements of the task accurately.
Small incremental improvements to our ways of working lead to big benefits over time. Marginal Gains Theory shows that tiny improvements generate big gains when sustained over weeks and months.  And continuous improvement processes mean that we can always find ways of saving a few minutes here and there, increasing sales, improving quality or building more efficient operations.
Watch the video 'Big Gains from Tiny Improvements' and then why not conduct your own Activity Audit to find some small improvements of your own?
About Scott Bradbury
At Scott Bradbury we deliver in-house workshops which are designed to improve people's productivity and efficiency through the application of accuracy skills.  Whether it's accurate data processing, document production or working effectively under pressure, we show your people how to improve their ways of working.
www.accuracyprogramme.co.uk | @AccuracySkills | accuracy@scottbradbury.co.uk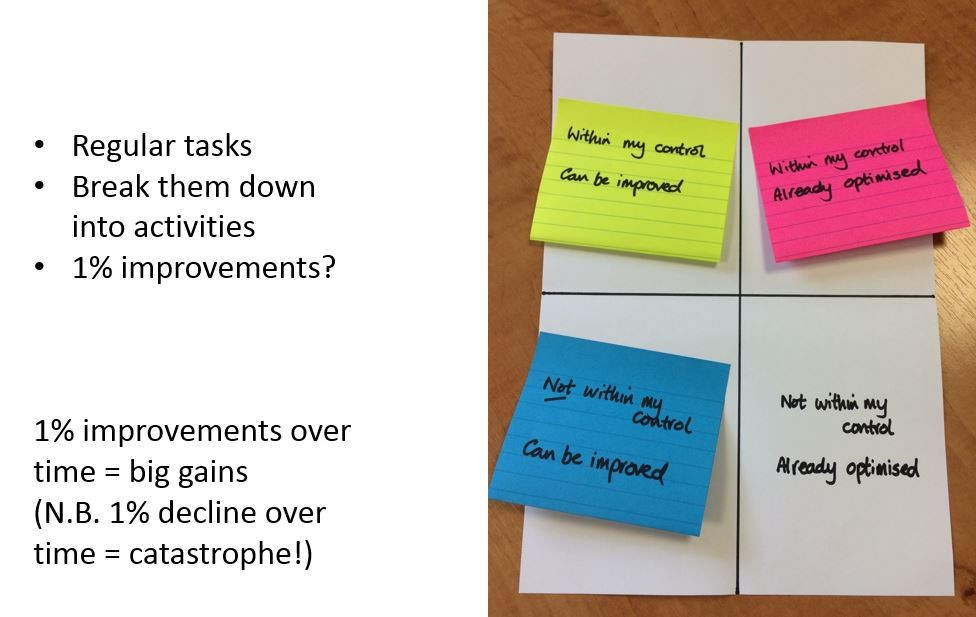 ---
Accuracy Asides is the name of our accuracy blog
You get to hear about our latest accuracy course results, the real-life 'bloomers' which come to our attention and all the latest news and juicy gossip about errors! We share accuracy tips and advice too.
Other Recent Posts
How often do you feel stressed at work? Every day? Once a week? Maybe if you're lucky just once in a blue moon? At one time or another you will have felt stressed at work. It might be because you're late for a meeting or you're feeling unwell. Or it might be because of the most common reason: the belief that you have too much to do.
---
'Lessons will be learned' is an often-repeated phrase trotted out by government ministers and heads of organisations when things have gone dreadfully wrong. In this short article we explore the importance of action rather than words in developing a genuinely blame-free working environment, where people are open about making, correcting and sharing the learning from their mistakes.
---
Have you ever felt sluggish returning to work after a break? This was me on my first Monday morning back after two and a half weeks off. Sitting at my desk, feeling strange to be in smart trousers and a shirt again, I found it very difficult to focus and kick my brain into gear. In the following days, I found myself getting overwhelmed by my workload, I tried to multi-task (and failed) and wasn't handling interruptions or distractions effectively. I started to omit important details, I forgot to do things, and often I quickly lost focus. Whether you've just returned from a holiday, maternity leave or sick leave, we can all struggle adjusting. But by adopting an 'accuracy mindset' and being 'present-minded', you can prevent errors from causing problems and stay stress-free at work.
---
Emails are an essential part of our day-to-day work and it's important we avoid making mistakes to communicate effectively. But there are many ways emails can go wrong and cause unexpected problems and frustration. Have you ever sent a message and suddenly realised you've addressed it to the wrong person, or you've forgotten to attach some essential files? I've made both these mistakes, and more, with my own emails, but over time have trained myself how to stop making the same errors. To avoid spending time doing re-work and be more productive, here are three simple, useful tips you can use when sending your next message.
---
Distractions and interruptions are an inevitable part of your working day. Humans are designed to be easily distracted, yet we expect ourselves to do work that requires complete focus. Your attention is drawn away from a task when the phone rings, or when your colleague offers a cup of tea, or when your manager asks a question. Interruptions like these might be small, but they disturb your train of thought, and have a big impact on your personal effectiveness. Let's talk about three steps you can take to minimise distractions and get the job done.