Now that our children are being allowed back to school and there is a gradual shift, for some, back to the office, what have we learned from the whole home schooling/working experience?
3-minute read
Over the past year there has been a balancing act for many within the home. The daily distractions in the household even without the home-schooling requirement – a doorbell ringing with a parcel delivery, a dog that needs feeding, the beep of an incoming text message, a washing machine that requires emptying…
What have we learnt?
What are we doing differently compared to how we set out in March last year?
Accept – It's OK not to be brilliant every day
Our home environment means there are very different distractions demanding our attention. During a virtual workshop we ran last month these comments appeared in the chat function:
"Sorry, doorbell has just gone – will be back in a moment!"
"Sorry I have a screaming baby – I can't speak now"
We are not sure our participants would have been so open six months ago. Being honest about our situation is vital and provokes empathy and awareness of the needs of others.
Balance – Maintaining equilibrium
The lines between work and home life are now blurred. The temptation for some, is to continue to work later into the evening, but does that benefit the organisation? Performance measurements are not based on hours worked - they are all about outputs achieved. Some days you may not complete all items on your To-Do list, but wasn't that the same in the office? Being honest with your colleagues, advising them a deadline might slip, or asking for support will help you maintain a balanced approach.
Ensure that you take time out away from the screen, schedule time to go for a walk – even if it is only around the garden. Working in short bursts and taking breaks improves concentration levels, this is one of our key take-home messages from our Developing and Eye For Accuracy course.
Communicate – Talking is good for us
Prior to the pandemic, face-to-face was the way 'we did business' but now communications and collaborations are centered around telephone calls, Zoom and MS Teams. I'm missing those informal chats that were grabbed by the coffee machine or the chance to mull over a problem over a sandwich at lunchtime.  The other day I was struggling with a piece of work and I contacted a friend for support. Hearing my plea, she started a Teams call and spent five minutes chatting. Giving some essential pieces of advice and unblocking my brain freeze. Don't be afraid to reach out and contact a colleague.  We shouldn't be socially isolated – we should be 'virtually' socially integrated.
Underpinning our virtual network are a great HR team, an understanding manager, and compassionate colleagues. All of whom are available to lean on. Whilst the HR team provisioned changes in working practices, the manager transferred weekly team meetings to virtual online sessions and whilst we aren't sitting directly next to our colleagues, the reality is they're situated at a desk with a phone and a laptop that enables us to contact them with the click of a button. Don't think you need to face things on your own just because you are sitting on your own.
Organise – Being prepared for work
Having a space that you designate as 'your workspace' in your home is important. Not all of us have the luxury of a desk in a study where we can close the door at the end of the day to signify the 'end of work'. If you have to work at the kitchen table ensure you tidy away the laptop, folders and To-Do lists at the end of each day. By clearing away these 'work' associations we tidy and organise our mindset.  Dress for work – don't sit in your pj's all day even if you feel like it. There have been many amusing memes shared over the last year with a suit jacket and tie appearing on the screen, whilst the jogging bottoms are de-rigueur under the desk. If you get dressed for work you ultimately feel more capable, energised, and organised for the work routine.
We've all had to make changes over the past year. By focusing on acceptance, maintaining balance, remembering to communicate, and being organised we'll ensure we have a measured, effective and productive approach to our work – whether that be in the home or in the office.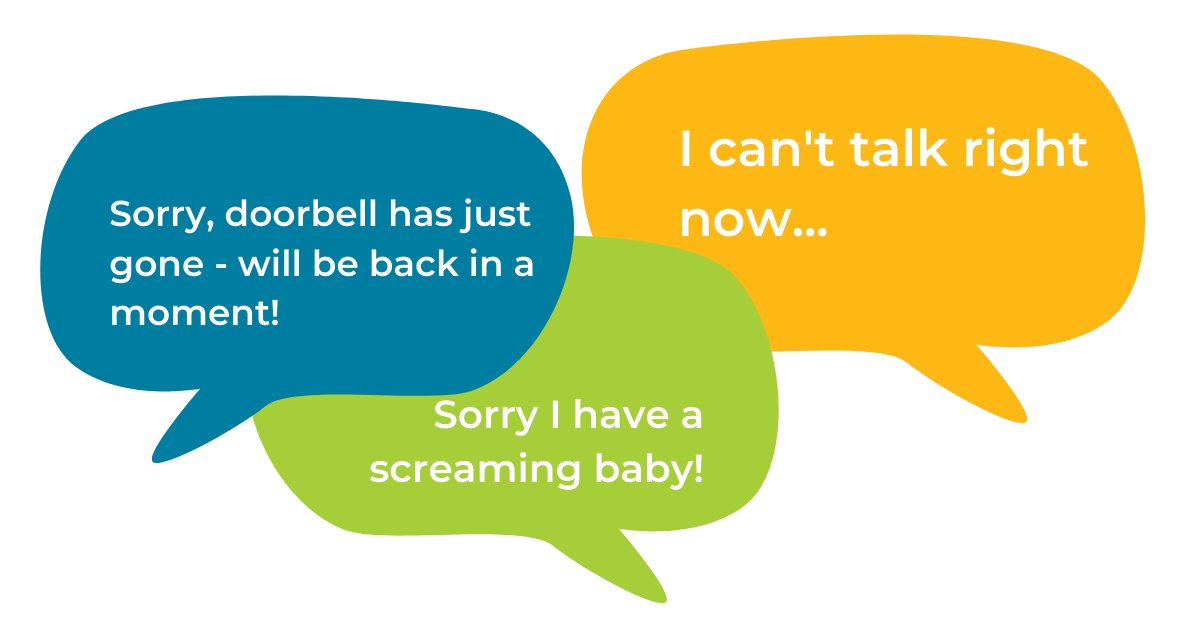 ---
Share to: LinkedIn Twitter Facebook
---
Accuracy Asides is the name of our accuracy blog
You get to hear about our latest accuracy course results, the real-life 'bloomers' which come to our attention and all the latest news and juicy gossip about errors! We share accuracy tips and advice too.
Other Recent Posts
Our blog this month celebrates the 'win-win' of engaging part-time workers in our organisations.
---
The last two years have been a time of change for everyone. As Scott Bradbury goes virtual and becomes greener, MD Catherine de Salvo explores the positive benefits of rethinking the way ahead in 2022.
---
In this month's blog we discuss strategies for overcoming the too-busy mindset.
Let's all focus on being productive instead of being busy.
---
Practical positive thinking is about taking a step back and asking yourself what you can do, and what is possible. And it isn't half energising! In this short article, Scott Bradbury Managing Director Catherine de Salvo applies some practical positive thinking to typical situations in Learning & Development.
---
The success of a training session depends in large part on the delivery – the expertise, personality, and facilitation skills of the trainer. But what about the participant? The preparation, contribution and reflection of the learner is vital.