Accuracy is a trainable skill, just like any other. And if you're interested in improving the efficiency and productivity of your people (saving your organisation alot of money along the way) then keep on reading! I'll be sharing eleven simple ideas with you which, when put into practice, help your people get it right first time, every time.
1. Help them to 'SuperConcentrate' - engaging the brain fully in an activity and concentrating 100% reduces error.
2. Ensure your people work consistently - if they vary the way they do things they are more likely to make a mistake.
3. Encourage your people to work at the 'optimum speed for accuracy' - most people think that to be accurate you have to slow down, but this is a myth!
4. Show your people how to recognise each digit or character in its exact location rather than looking at the overall shape.
5. The brain makes assumptions about what the eye is seeing. Help your people to overcome this natural barrier to accuracy by using accuracy skills rather than reading skills.
6. Ensure your people use the groups that clustered numbers like telephone numbers, National Insurance numbers and postcodes provide to help them spot any errors in the information.
7. Encourage your people to hear each number individually in their heads so that they learn to listen for mistakes as well as look for them.
8. Ensure your people adopt the mindset 'there's a mistake here somewhere and I'm going to find it'. If they check with the mindset that they're 'only checking' they won't spot mistakes.
9. Be aware of personal error patterns - everyone tends to make the same kind of mistake over and over again. Being aware of where you are most prone to make a mistake reduces error.
10. Praise people when they are correct - don't just highlight their mistakes. Celebrate accuracy.
11. Understand that people don't deliberately make mistakes - lead by example and champion an internal accuracy culture where people are valued for getting it right first time, every time.
If you want to equip your people with the skills they need to give it right first time, give me a call on 01638 723590 for a quick, informal chat about the best route for you. Our accuracy skills workshops, Developing an Eye for Accuracy and Accurate Written Communication, deliver measurable results. Typically our participants achieve a reduction in errors of 50-60%. What would that mean for you?
Blog post by Alice Hubbard, 18 February 2020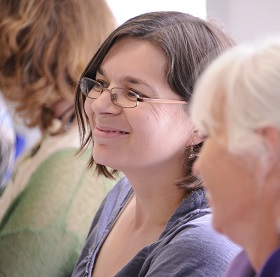 ---
Share to: LinkedIn Twitter Facebook
---
Accuracy Asides is the name of our accuracy blog
You get to hear about our latest accuracy course results, the real-life 'bloomers' which come to our attention and all the latest news and juicy gossip about errors! We share accuracy tips and advice too.
Other Recent Posts
Practical positive thinking is about taking a step back and asking yourself what you can do, and what is possible. And it isn't half energising! In this short article, Scott Bradbury Managing Director Catherine de Salvo applies some practical positive thinking to typical situations in Learning & Development.
---
The success of a training session depends in large part on the delivery – the expertise, personality, and facilitation skills of the trainer. But what about the participant? The preparation, contribution and reflection of the learner is vital.
---
To mark Scott Bradbury's 18th birthday this month, Managing Director Catherine de Salvo shares the origins of the company's name and eighteen key ideas for learning and development in 2021. Do you agree with her?
---
Now that our children are being allowed back to school and there is a gradual shift, for some, back to the office, what have we learned from the whole home schooling/working experience?
---
There's one area of data protection training which is typically overlooked and yet is central to legal and correct data processing. As we mark National Data Protection Day this week, we explore what it is and how to get it right.