At school we learn to read, write and do arithmetic – amongst other things! But you never learn how to be accurate. In fact, our reading skills can even impede our accuracy because early on in our education we learn to perceive shapes and combinations of letters, so that we no longer 'see' each character but instead recognise words from their overall shape. That's why the brain is so good at 'making sense out of nonsense' – so yuo cna raed tihs accrately even tohugh the lettrs are all mdduled up!
Being a competent reader means taking in a lot of information all at once and allowing the brain to make sense of it. That's why we don't always notice mistakes in our emails, in important documents and in communications with customers. My name is 'Catherine' and you'd be surprised how often people write to me as 'Christine' or 'Caroline' – or even call me by the wrong name over the telephone! That's because the other people see the capital 'C' and a 'long name' and their brain substitutes the rest. I met a chap called Christopher the other day and he told me people address him as 'Dear Christ'! I expect people sometimes get your name wrong, too. No-one likes to be addressed incorrectly but at work, getting a person's name wrong can have serious repercussions – particularly if it's a customer's name.
The way we learn to read is just one of the many reasons all human beings make mistakes when working with data. If you know why mistakes occur, you can set about taking steps to prevent them.
By developing our accuracy skills, we learn techniques for checking each individual letter, character or number – and that means not allowing our brains to be influenced by the 'overall shape' of the information we are looking at. We need to ditch our reading skills when we are checking for accuracy. By all means read a document and check it for meaning – but that won't necessarily pick up errors. You need to adopt a completely different approach when checking for accuracy.
Accuracy is a core skill. It is fundamental to smooth operations at work. Accuracy is a life skill, so it's just as useful at home too! Take our 'Back to work' accuracy test to see how you fare. And circulate it amongst your friends and colleagues too.
Download the 'Back to Work' accuracy test
More information:
Catherine de Salvo will be presenting a free half-day introduction to accuracy skills training in London on 21 September. Delegates will learn useful practical techniques for reading, checking and transferring data. The event is called Reducing the Cost of Error and you can find out more by visiting:  https://www.accuracyprogramme.co.uk/events/

Scott Bradbury is publishing a book called Preventing Mistakes at Work in September 2016.  You can download the first chapter here: https://www.accuracyprogramme.co.uk/programmes/preventing-mistakes-work/
People booking to attend Reducing the Cost of Error will receive a free copy of the book Preventing Mistakes at Work.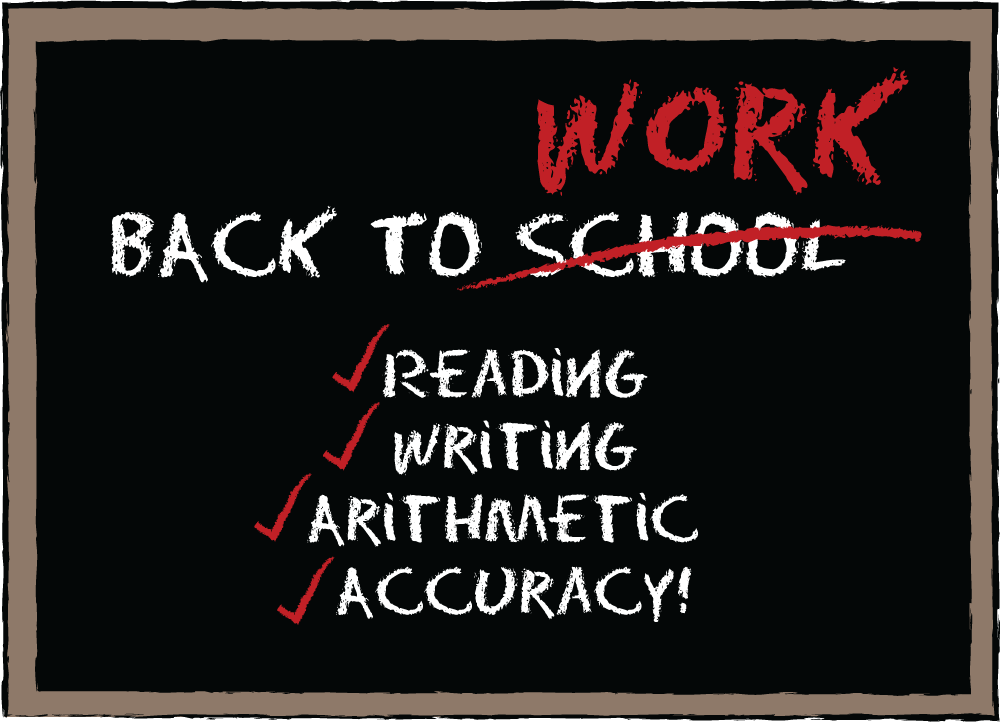 ---
Share to: LinkedIn Twitter Facebook
---
Accuracy Asides is the name of our accuracy blog
You get to hear about our latest accuracy course results, the real-life 'bloomers' which come to our attention and all the latest news and juicy gossip about errors! We share accuracy tips and advice too.
Other Recent Posts
Practical positive thinking is about taking a step back and asking yourself what you can do, and what is possible. And it isn't half energising! In this short article, Scott Bradbury Managing Director Catherine de Salvo applies some practical positive thinking to typical situations in Learning & Development.
---
The success of a training session depends in large part on the delivery – the expertise, personality, and facilitation skills of the trainer. But what about the participant? The preparation, contribution and reflection of the learner is vital.
---
To mark Scott Bradbury's 18th birthday this month, Managing Director Catherine de Salvo shares the origins of the company's name and eighteen key ideas for learning and development in 2021. Do you agree with her?
---
Now that our children are being allowed back to school and there is a gradual shift, for some, back to the office, what have we learned from the whole home schooling/working experience?
---
There's one area of data protection training which is typically overlooked and yet is central to legal and correct data processing. As we mark National Data Protection Day this week, we explore what it is and how to get it right.